FCXC: Bogong High Plains Rd, Windy Corner Falls Creek, Victoria, 3699
Falls Creek Cross Country (FCXC) is a ski centre with everything you need to hit the cross country trails. This service is managed by the Y Victoria and is based within the Windy Corner Day Shelter, next to the Windy Corner Cafe. FCXC is your one-stop-shop for rentals, lessons, repairs, retail and trail information.
Falls Creek is the premier destination for cross country skiing in Victoria and with 65km of groomed cross country trails it is one of the biggest cross-country areas in Australia. This vast trail net provides plenty of suitable options for complete beginner cross country skiers through to advanced.
The Falls Creek Cross Country staff are made up of ski champions, and highly experienced skiers and instructors who are all passionate and knowledgeable about XC and the local area. Our friendly expert staff can provide you with updates and information about the latest snow and trail conditions, where to ski and the waxing recommendations for the day. Drop by for a chat before heading out and ensure you've got all the right gear and advice.
Falls Creek Cross Country provides:
Ski hire and snow gear rental
Ski clothes and boot rental
Ski lessons
Ski clinics
Toboggan hire
Snowshoe hire
Ski equipment repairs and maintenance
Windy Corner day shelter
Windy Corner is the home of XC skiing at Falls Creek. Found at the end of the Bogong High Plains Rd, Windy Corner is your last stop before heading out on the ski trails. The heated public shelter and bathrooms offer a warm and dry space to escape the weather, put your boots on and change into your ski clothes. A public waxing bench is also available for all of your ski care and tuning needs.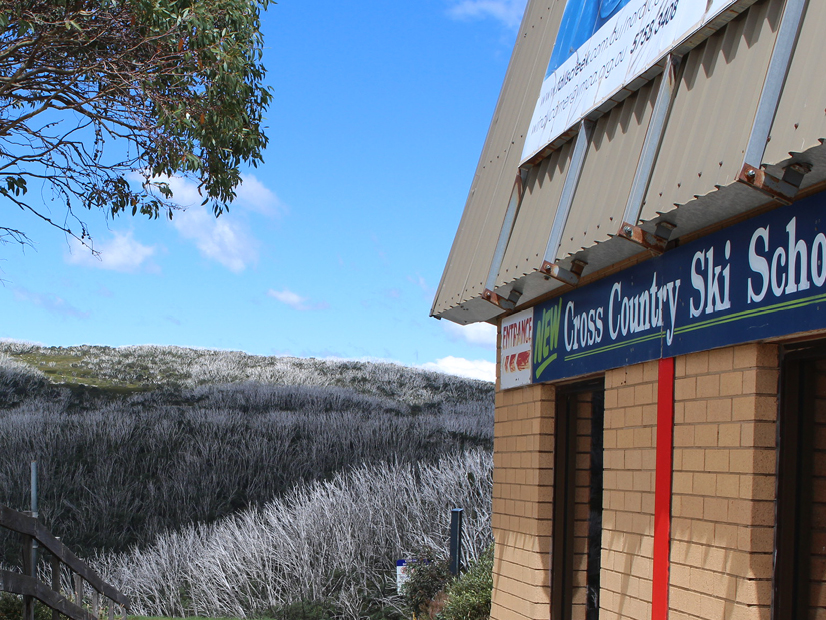 Windy Corner Café
Looking for the best coffee and food on the mountain? Windy Corner Café is the place for you. Our small but nourishing menu offers a range of options, most of which is homemade. Our delicious lunch specials and tasty range of baked goods are expertly prepared by the chefs at Howmans Gap.
The menu caters for breakfast and lunch and includes delicious pies, pasties, toasties, wraps, soup and a daily lunch special. You can enjoy a cuppa tea, coffee, chai or hot chocolate and a selection of popular snacks and sweets. We also have gluten free, nut free, dairy free and refined sugar free snacks too. Our Great Divide Coffee uses sustainably sourced, fairtrade beans that are roasted locally in Marysville, Victoria. We offer a 50-cent discount off your coffee if you bring your own cup.
Windy Corner Café is a cosy place to take some time out for yourself and a good meeting spot for groups to grab refreshments between runs. We pride ourselves on providing healthy and nutritious food that will keep you fuelled while you're out and about on the ski trails.
Cross country ski lessons
Cross country ski lessons Falls Creek Cross Country offers a range of ski lesson options that cater to all ability and group levels. Our team of talented and qualified ski instructors come with a wealth of knowledge and experience. From beginners to advanced, our skilled instructors offer private, group and school group ski lessons as well as ski clinics. Learn the basics, the different cross country skiing styles, classic or skate cross country skiing, telemark skiing, or improve your cross country skiing technique with a coaching lesson. Booking is highly recommended to avoid disappointment, so come in or contact our ski school.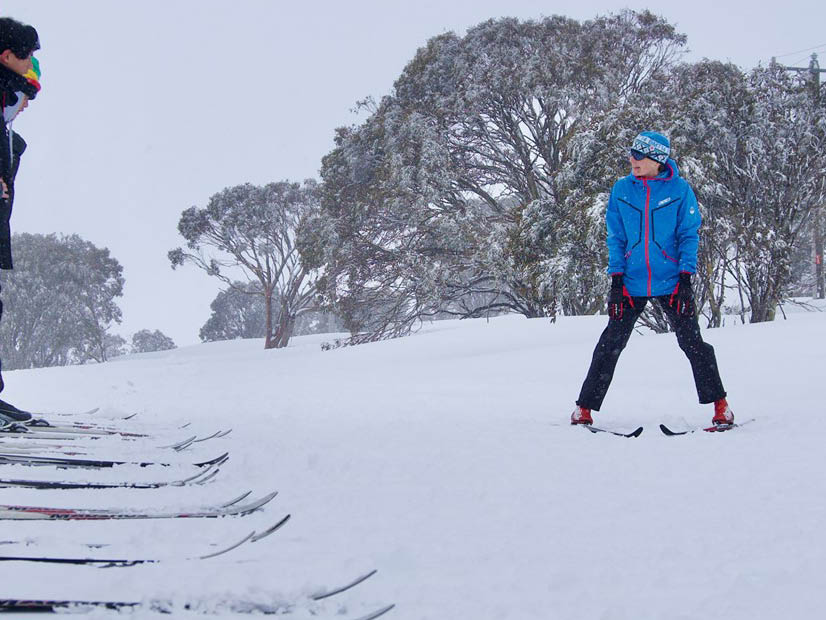 Ski hire retail and repairs
Falls Creek Cross Country provides a wide range of equipment and clothing available for hire or purchase. We have gear for beginner and experienced skiers and we offer half day, full day, and multi-day hire prices for adults, youth and children.
Snow gear hire
Classic skis and boots: The ideal setup for beginner cross country skiers. The pattern bases on these skis allow for waxless classic skiing, a similar motion to walking or hiking on the snow.
Skate skis and boots: Using a similar motion to ice skating, skating offers a fast way to explore the skis trails.
Backcountry touring skis and touring boots: While these skis are wider and the setup typically heavier than standard skis, the metal edges allow users to leave the groom trails behind and explore the High Plains off-piste.
High-end skis: Demo skate skis are available for hire.
Snowshoes: Snow shoe hire is available for those wanting an easier way of accessing the trails whilst enjoying the backcountry snow experience.
Waterproof jacket and overpants.
Toboggan hire is also available.
Ski gear purchase
Ski gear retail: Are you looking for a new set up? Falls Creek Cross Country has a range of skis, poles, clothing, accessories and waxing equipment for sale. We also offer ex-hire and demo skis for sale.
Drop by or contact us to chat with our knowledgeable staff about what equipment will meet your skiing needs and what deals we can offer you.
Ski repairs and maintenance
If you're finding your cross country skis are starting to run slow, need a repair or some TLC, we offer cleaning, waxing and repair services. Skiis will be affected by normal wear and tear and they can also be damaged by skiing over rough surfaces and things such as rocks, stones, gravel, hard dead sticks, branches or roots. FCXC can fix and structure your gear so you'll be gliding through the snow. Bring your skis in, and we will get them back up and running like new. If you have waxable cross country skis, consider getting your skis re-waxed. Waxing locks in moisture to help prevent oxidation and rust and improves performance. Repairing and servicing your ski equipment is the best way to keep it in optimal condition.
Cross country skiing at Falls Creek – What you need to know
Cost
Falls Creek XC trails access is FREE. You can enjoy skiing, mountain views and the great outdoors with no need to buy lift snow passes.
Transport costs: If you drive to Falls Creek, you'll need to purchase a resort entry permit which covers the cost of day and overnight car parking. In Summer parking is free. The resort entry permits are charged per vehicle per day. Get together with your friends or family for a road trip to Falls Creek Cross Country and share the cost.
If you travel to Falls Creek by bus coach, private transfer, or helicopter, the resort entry permit cost is usually included in the ticket price (Vehicles with 13 seats or more are charged resort entry per person)
Hire and lesson prices

Ski equipment - Full hire includes skis, boots and poles
Adult
Child*
Family**
Full day ski hire
$60.00
$44.00
$168
1/2 day hire / cost of full day hire if having a private lesson
$44.00
$30.00
$146
Multi-day hire (each additional day has a 50% discount from full price)
$30.00
$22.00
$84.00
Skis only
$32.00 per day
Ski boots only
$26.00 per day
Poles only
$16.00 per day
Demo skis, boots and poles
$90.00 per day
Demo skis only
$64.00 per day
Season in hire***
$400
$300
$1,000
Snow shoes or snow boots
$30.00 per day
Jacket or over pants
$20.00 per day
Jacket and over pants
$30.00 per day

*Child is 16 years or younger
** Family 2 adults and up to 3 children
***In hire must be returned every night

| | | |
| --- | --- | --- |
| Lessons | Adult | Child |
| Beginner group lesson and 1 day hire | $90.00 | $58.00 |
| Beginner group lesson | $64.00 | $32.00 |
| Private 1 hour 1 person | $106 | $58.00 |
| Private 1 hour 2 person | $85.00 | $45.00 |
| Private 1 hour 3 person | $74.00 | $40.00 |
| Private 1.5 hour 4 person | $69.00 | $35.00 |
| Private 1.5 hour 5 person | $64.00 | $32.00 |
| If hiring and having a private lesson, please refer to 1/2 day rate of hire | | |



Getting to Falls Creek
You can travel to Falls Creek and nearby connecting cities by car, bus, train - or even by limo or helicopter if you're lucky enough! Below is some information on arriving by car or bus, two common transport options.
Drive: You'll need to have snow chains and buy a Falls creek resort entry permit. Snow chains are a legal requirement for all vehicles entering Falls Creek alpine resort.
Bus: Coaches are available from Melbourne and nearby capital and regional cities. Falls Creek Coach Services has many routes and drops you off at the Falls Creek accommodation transfer terminal which is a short 5-10 minute walk to the Falls Creek Cross Country centre and Windy Hill shelter – where we will be here to help you with XC ski hire, lessons, and trail information.
Drive, Park & Bus: You also have the option to drive, park and ride a bus into the Falls Creek resort area. You can drive to Mount Beauty and catch the Falls Creek Coach Service from their Mt Beauty bus terminal which is attached to the Caltex Service Station. The secure parking is located behind the Mt Beauty bus terminal. Snow chains are not needed on cars to access the Mt Beauty bus terminal.
Accessibility
Falls Creek Cross Country and the Y value diversity and inclusion. FCXC centre is wheelchair accessible from the carpark via a ramp. FCXC is also the base for many Disabled Wintersport Australia events and camps.
What to wear
It's important to wear an outer layer of clothing that is both windproof and waterproof when cross country skiing to protect yourself from the elements. Outer pants and jackets should be light and breathable. Clothing such as jeans, and cotton and nylon fabric tops and pants are not suitable. Add warm, thin layers. Wear woollen socks and wear or bring a beanie, gloves and a neck gaiter (neckwarmer) and sunglasses or goggles. FCXC offers jackets and overpants for hire.
What to bring
A small backpack to carry some essentials which includes food, water, sunglasses, sunscreen, trail map and first aid. What you should bring will depend on the type, time and duration of the cross country trail you plan to go on. The Falls Creek Cross Country team can provide you with the right information and advice. Visit our centre or contact us in advance for assistance.
Accommodation
There is an extensive variety of accommodation options at Falls Creek, including lodges, apartments, self-contained apartments and hotels, from luxury to budget options. If you're after an affordable, comfortable place to stay near Falls Creek, the Y managed Howmans Gap Discovery Camp provides a cosy and friendly experience.
Howmans Gap has self-contained cottages and communal or private bunk rooms. Bunk room accommodation prices include packages for 2 or 3 meals. From Howman's Gap you can drive to Falls Creek or catch the Falls Creek Coach Service from their driveway.
Come on an adventure with Falls Creek Cross Country
Falls Creek cross country skiing is an ideal way to explore the Victorian wilderness and discover a variety of trails and terrain. Visit FCXC and enjoy fresh alpine air, spectacular mountain views and frosted snow gums. Grab some xc skis and go at your own pace.
Got any questions or want to make a booking? Contact Falls Creek Cross Country and chat with our friendly and knowledgeable staff about what you need.
Email: fallscreekxc@ymca.org.au
Phone: (03) 5758 3408
Cross Country Ski Trails
Falls Creek offers 65km of groomed trails throughout the winter months that cater to all skiing abilities. Come and ski through the frosted snow gums, snow flurries and cold fast snow from late June, July and early August. Late August and early September offer prime spring skiing conditions that are perfect to take your skis off the tracks to explore the Victorian High Plains.
Beginner Trails

Falls Creek has a range of trails to suit all skier abilities. All trail access is from the Windy Corner Car Park up Bogong High Plains Road. Beginner trails are identified by the green circle on the trail map and signage.

The Nordic Bowl: The first stop for skiers is the Nordic Bowl. The large flat base with varying degrees of sloping sides provides a perfect place to learn the basics and perfect your skills. The surrounding snow gums offer great shelter from the wind and weather. The Aqueduct trail around the Nordic Bowl and Hoppet start area are great trails to progress too.

Ropers Lookout: More adventurous skiers can venture across to the Dam Wall and follow the 2km trail towards Ropers Lookout. This trail provides stunning views of Falls Creek Village and Rocky Valley Dam.

Intermediate Trails

Once you are comfortable with the basics, the intermediate trails provide skiers with the opportunity to explore and challenge their skills. Blue squares identify intermediate trails on the trail map and signage.

Sun Valley: Following the base of the downhill runs, the 4.4km Sun Valley trail provides views of the Rocky Valley Dam and the Rocky Knolls. You can access this trail from Panorama Corner.

Pretty Valley Road and Mt McKay: Following Pretty Valley Road offers a 2.4km sheltered trail on those less than perfect weather days. Once at the top, skiers will find themselves at the top of the downhill lifts at Ruined Castle. The 4.5km Mt McKay loop offers excellent views of the Mount Bogong, Spion Kopje, Pretty Valley, the Falls Creek Summit, the Kiewa Valley and, on clear days, Mt Buffalo.

Watchbed Creek: Skiers looking for a longer adventure can cross the Rocky Valley Dam Wall and out to Watchbed Creek. From the Nordic Bowl, this 4.5km flat trail follows the road to Omeo. Once at Watchbed Creek, skiers can choose to traverse back along Pauls track, climb the Paralyser to Healthy Spur or continue towards Langford's Gap, historic Wallace's Hut and Cope Hut.

Heathy Spur Loop: Amongst the best cross-country ski trail in Australia, the 12km Heathy Spur Loop takes skiers above the snow gum tree line to the top of the Bogong High Plains. Here you will find some of the best views of Rocky Valley Dam, Falls Creek Resort and the Victorian Alpine region. Skiers will tackle the fun, twisty and turny Blade Runner on their way back down to the Dam Wall.

Advanced Trails

Advanced skiers can test their skills on several challenging trails. Push the limits of Nordic skis on the fast and steep downhills on the Atkins, Little Canada, Pines and Boomerang trails. Another feature trail is down the road from the Mt McKay loop to Pretty Valley and the Stockyards. Finally, skiers looking for a great day adventure should follow Bogong High Plains Rd past Watchbed and around to Wallace's and Cope Huts.